PRESIDENT KARANJA ON CORONAVIRUS (COVID-19)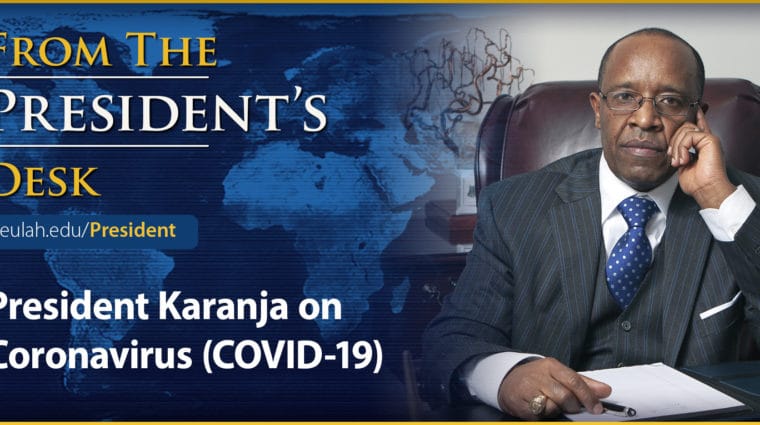 Greetings,
I am reaching out today about a significant health and safety topic that has become of serious global concern over the past few weeks—the Coronavirus (COVID-19). The health and safety of our students and faculty is our top priority, which is why I want to share with you what we know right now and the precautions that BHU is taking to protect our people in a thoughtful way.
BHU has been proactively monitoring the situation and will continue to share more information as it evolves. While the headlines are growing each day with more news on the outbreak and its potential implications for the US, there ARE defenses we can implement to protect ourselves and our families from the Coronavirus. Here is a link to the CDC for more information about the virus and precautions we can take.
Due to the Coronavirus' volatile impact on our nation's mobility patterns and financial markets, please know that BHU's Leadership is working to stay ahead of things. Thanks to our Leadership Team's ongoing consideration of global risk factors and appropriate preparedness, BHU's Leadership Team has already begun working through possible scenarios involving COVID-19 and preparing for potential business implications.
At this time, we're asking our students and faculty to follow these protocols:
Here is CDC's recommendation for preventive practices:
There is currently no vaccine to prevent coronavirus disease 2019 (COVID-19). The best way to prevent illness is to avoid being exposed to this virus. However, as a reminder, CDC always recommends everyday preventive actions to help prevent the spread of respiratory diseases, including:
Avoid close contact with people who are sick.
Avoid touching your eyes, nose, and mouth.
Stay home when you are sick.
Cover your cough or sneeze with a tissue, then throw the tissue in the trash.
Clean and disinfect frequently touched objects and surfaces using a regular household cleaning spray or wipe.
Wash your hands often with soap and water for at least 20 seconds, especially after going to the bathroom; before eating; and after blowing your nose, coughing, or sneezing.
If soap and water are not readily available, use an alcohol-based hand sanitizer with at least 60% alcohol. Always wash hands with soap and water if hands are visibly dirty.
I encourage you to remain vigilant, cautious and educated on this topic. We are diligently focusing on the health and safety of our University and will continue to monitor this and make an update to you when necessary to help our University navigate this evolving situation.
Thank you,
Benson M. Karanja, Ed.D., H.S.C.
President