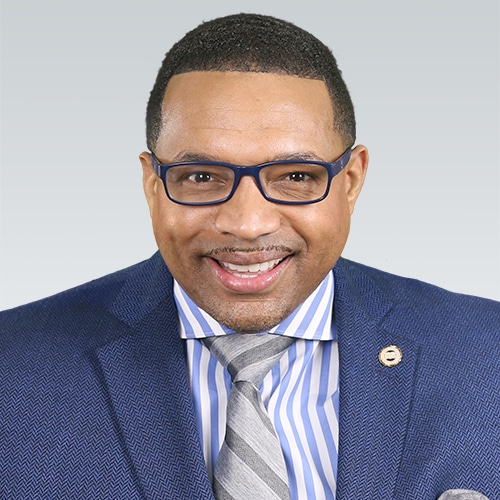 Rashad Richey, Ed.D, Ph.D.
Department Chair of Adult Learning
Professor of Leadership Studies & Business
J.D. Candidate, John Marshall Law School
Ed.D., Clark Atlanta University
Ph.D., Scofield Graduate School and Theological Seminary
M.B.A., Beulah Heights University
B.A., Beulah Heights University
Certificate, Cornell University
Dr. Rashad Richey is a noted lecturer, university professor, broadcaster, writer and entrepreneur. As a political analyst, Dr. Richey was Emmy nominated for his continued work as a television news analyst for CBS 46 News - Atlanta. Nationally, Dr. Richey is a frequent commentator on MSNBC, CNBC, BBC, The Young Turks Network and the Fox News Channel, where he provides insight and analysis on various political, social and policy related topics. He is also an award-winning radio personality who was voted "Best Talk Radio Personality in Atlanta" by readers of the Atlanta Journal-Constitution (first African-American to receive this distinction) and named "Most Trusted Voice in Atlanta" by the Atlanta Business Journal. Beyond his broadcasting acumen, Professor Richey serves as Chief Editor and Sr. Writer for Rolling Out Magazine (largest free-print urban publication in America), with a national readership of 2.8 million and combined social media following of half-a-million.
"Ensuring the message is heard" is a frequent Dr. Richey quote. As a lecturer and speaker, his portfolio includes Morehouse School of Medicine, University of West Georgia, Clark Atlanta University, Mercer University, SCLC National Luncheon, Pinnacle Awards and the Atlanta NAACP Jubilee to name a few.
As an industry influencer and marketplace leader for over 14 years, Dr. Richey is a practitioner and scholar who believes higher education is best achieved when pragmatic educational elements are combined with research and personal character development. Dr. Richey has both research and non-research material published through an array of platforms, including Grin Publishing, CBS, Fox News, Atlanta Business Journal and Rolling Out Magazine.
Dr. Richey is a well-known social justice leader and national speaker who is actively involved in policy reformation and addressing the social ills of racial disparity. This work has led to Dr. Richey being recognized by various local and national agencies for his collective work and societal impact, including being honored with a Presidential Lifetime Achievement Award from former United States President Barack Obama. Dr. Richey was also named Top 40 Under Forty Most Influential people in GA by the Atlanta Business Chronicle and one of Atlanta's Most Powerful leaders according to Atlanta Magazine.
Believing service is a responsibility we all must share, Dr. Richey is a board member at Piedmont Hospital, Recovery Consultants of Atlanta, and Children's Rights. He is a member of the Atlanta NAACP, National Association of Black Journalists, American Association of University Professors and the Atlanta Press Club.
Dr. Richey earned his Bachelor of Arts in Religious Studies and MBA from Beulah Heights University, PhD from Scofield Graduate School (Research Focus: Global Affect of Western Religion on Politics, Policy and Government), Doctor of Education from Clark Atlanta University (Research Focus: Federal Policy and Political Analysis of Higher Education Reform) and completed studies in Executive Leadership from Cornell University. Dr. Richey is currently matriculating at Atlanta's John Marshall Law School obtaining his Juris Doctor Degree (Law Degree).