3/12/20 – PRESIDENT KARANJA ON CORONAVIRUS (COVID-19)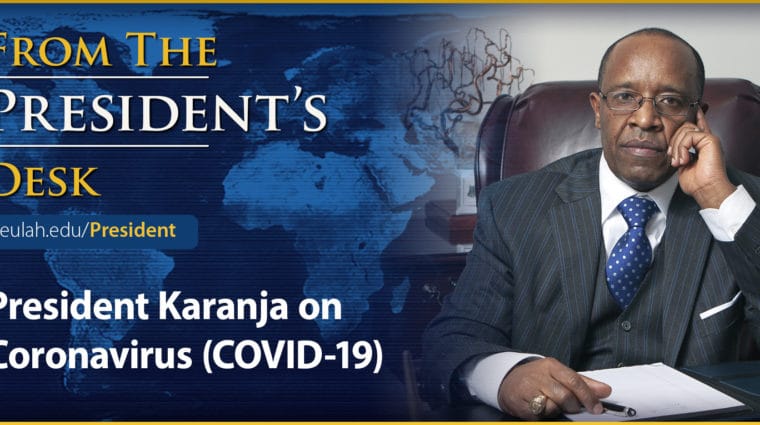 The health and safety of our faculty, staff, and students are a top priority. Our prayers go out to those who have been impacted by the Coronavirus (COVID-19) global pandemic. My team has been monitoring this situation closely and taking every precaution to keep you safe.
With the effects of the outbreak being felt more as the days pass, I wanted to reach out to you and share what BHU implemented effective immediately.
Our University will suspend all Chapel services for the remainder of the semester
In the event it becomes necessary to close the University, classes will be offered via on-line and Zoom for all domestic and international students
We have instituted that faculty and staff will adhere to the strict domestic and international travel policy that has been issued by the government to prevent the spread of illness. Let me stress the importance of following the guidelines set by the CDC.
Stop handshaking – use other methods of greeting that do not involve making contact
Avoid touching your eyes, nose, and mouth.
Cover your cough or sneeze with a tissue.
Wash your hands often with soap and water for at least 20 seconds; before eating and after blowing your nose, coughing, or sneezing.
Clean and disinfect frequently touched objects and surfaces using a regular household cleaning spray or wipe.
Use an alcohol-based hand sanitizer with at least 60% alcohol.
Limit food sharing.
If you are feeling sick or have a family member that is sick, stay at home.
Avoid crowded areas, including movie theaters or any function that would result in overcrowding.
All these safeguards and precautions are made with you in mind. They are based on recommendations from local, state, and federal health officials. My office will continue to follow the guidance from health agencies and government officials to maintain the health and safety of all at our great University.
Please continue to check your university email and our website for updates.
Thank you for allowing Beulah Heights University to be your choice for a higher education!
Blessings,
Benson M. Karanja, Ed.D., H.S.C.
President